Frank Romero: Cheech's Downtown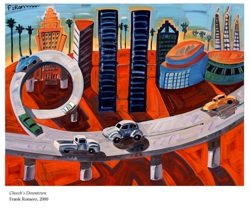 Frank Romero: Cheech's Downtown
Print Dimensions: 26" x 21"
Limited Edition
Giclée
/ Signed / Numbered [250]
You may arrange to pick up purchased items at the museum for no additional charge.
Shipping & handling costs are not included in the sale price.
CHEECH'S DOWNTOWN
by renowned artist
FRANK ROMERO
is an image of the downtown Los Angeles cityscape including city hall and the freeway system. Romero produced this edition of 190 Giclee prints in 2011 exclusively for the museum.
Romero is an internationally acclaimed artist, yet while his work has been exhibited extensively in the USA, Europe and Japan, is featured in many permanent collections including the National Museum of Art in Washington D.C. and the LA County Museum of Art, he has remained a dedicated constituent of the LA art community throughout his 40 year career. As a member of the 1970's
Chicano art Collective
,
Los Four
, Romero and fellow artists
Carlos Almaraz
,
Beto de lo Rocha
and
Gilbert Lujan
, helped to define and promote awareness of La Raza through murals, publications and exhibitions. Their historic 1974 exhibition at the LA County Museum of Art was the first Chicano art exhibition at a major art institution. Romero has completed over 15 murals throughout the city and was a key contributor to the 1984 Olympic Arts Festival with
Going to the Olympics
, a large scale mural adorning Highway 101. He recently restored this mural with a grant by the Amateur Athletic Foundation, as well as new murals for
SPARC
(Ritchie Valens Park in Pacoima),
North East Trees
(along the Los Angeles River), and in Silverlake.