Greetings from Beverly Hills by Mike Oldham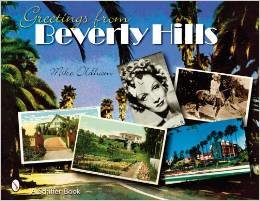 Greetings from Beverly Hills by Mike Oldham
Since the early 20th Century, Beverly Hills in California, USA, has been renowned for movie stars and mansions. In Oldham's book the glamorous heyday of Beverly Hills comes to life through over 300 color and black and white postcards. Experience mid-20th Century Beverly Hills in the early days: the infamous Beverly Hills Hotel when silent movie star Mary Pickford could be seen socializing; the Beverly Wilshire Hotel, later home to Elton John, Andrew Lloyd Weber and so many others; and, as Charlie Chaplin noted, when "...sidewalks ran along and disappeared into open fields...".
Pay by check/mail or paypal. You may arrange to pick up this item from the museum to avoid mailing costs.
Packaging and handling fees are included. Shipping costs are additional and calculated at checkout.