Martha Alf: Apple - Limited Edition / Signed / Numbered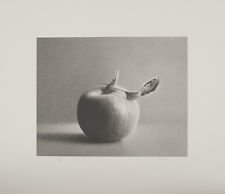 Martha Alf: Apple - Limited Edition / Signed / Numbered
Dimensions: 20.75W x 17.75H
Limited Edition Lithograph / Signed / Numbered [250]
Pay by check/mail or paypal. You may arrange to pick up this item from the museum to avoid mailing costs.
Packaging and handling fees are included. Shipping costs are additional and calculated at checkout.
Compare limited edition Martha Alf recent sale of limited edition lithograph 5/15 listed at $2,000.
From Southern California, Martha Alf grew up in San Diego and became known for her cylinder painting of everyday household items transformed into mysterious objects. Many of her subjects are based on photographs. Her style is akin to that of Josef Albers, whose paintings are studies in optics. She was also influenced by the precise still life painting of 16th-century Spain and an admiration for Georgia O'Keeffe. Alf raised her family as a traditional housewife and then studied with figurative painter Richard Diebenkorn at UCLA.