Milford Zornes: Main Beach Laguna - SALE: 25% DISCOUNT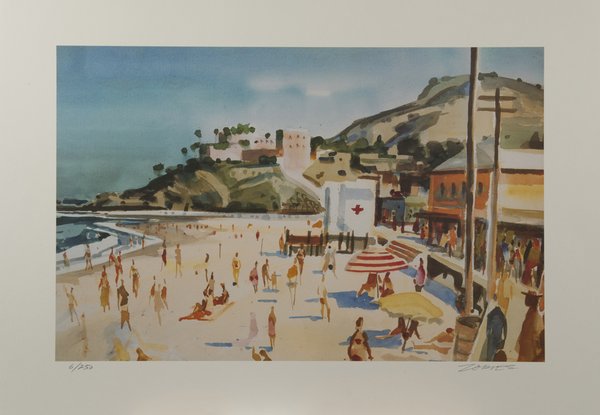 Milford Zornes: Main Beach Laguna - SALE: 25% DISCOUNT
Dimensions:
Lithograph Print / Signed / Numbered [250]

Pay by check/mail or paypal. You may arrange to pick up this item from the museum to avoid mailing costs.
Packaging and handling fees are included. Shipping costs are additional and calculated at checkout.
Milford Zornes was recognized as a leader in the California Style watercolor movement which began in the 1920s. Zornes' style differed from the traditional use of watercolors in which color was added to detailed pencil drawings. His work is characterized by the application of transparent washes of color to large sheets of paper, allowing the white to show through and define shapes.
Zornes' paintings are represented in the collections of the Metropolitan Museum of Art, Corcoran Gallery of Art, Los Angeles County Museum of Art, the White House, and the Library of Congress Collection. He also created New Deal murals for post offices in his hometown of Claremont, California and in El Campo, Texas. In 1942,while a teacher at the Otis Art Institute, Zornes directed the painting of a fresco at the Ramona Bowl amphitheater in Hemet, California.